// SHELVING AND RACKS
Get a one of a kind garage with top of the line products.

// WE'VE GOT OPTIONS
Custom designs to fit any garage and any hobby.
// ROOM TO SPARE
Get garage clutter off the ground and out of the way.
CONSULTATION
IT'S TIME TO GET ORGANIZED.
CONSULTATION
IT'S TIME TO GET ORGANIZED.
TRUSTED GARAGE SHELVING FAYETTEVILLE NEEDS
Our garage shelving in Fayetteville is the industry's most versatile and strongest shelving system on the market. Store thousands of pounds of storage in an efficient, compact manner with Monkey Bars garage shelving and accessories.
//

Guaranteed Strength
Each 4 foot powder-coated shelf is capable of supporting 1,000 lbs. Combine it with another shelf and some accessories and your storage options are limitless.

//

Customized to Your Needs
We help you custom design a storage system that meets your specific needs. After assessing your storage area and items during our free consultation, we recommend the right shelving and accessories based on what you need. Monkey Bars are the garage shelves Fayetteville families love to customize.

//

Quality Guarantee
All Monkey Bars shelving and accessories are backed with our lifetime warranty. We guarantee you won't be disappointed with our systems.

STRONG
Holds 1000lbs every four feet of shelving
TWO COLOR OPTIONS
Designed to match any home and style

OFF THE FLOOR

Get everything off of your floor for easy cleaning

COLOR COORDINATED

Designer Series finishes match your garage cabinets
Shelving and Accessory Options
We offer multiple shelving options and an abundance of accessories to help you get organized in the most efficient way possible. With our garage shelving in Fayetteville, your storage options are endless.
Shelf Options: This is not a one-size-fits-all system. You can select from 16″ deep shelves, 24″ deep shelves, drop-down shelves and inverted shelves. We will help you decide which is best for your storage needs.
Patented System: The unique design of our patented bar and hook system is what allows you to store a lot in limited area. 11 different rubber-coated hooks hang various items below the shelf, maximizing on your storage space.
The Right Accessories for You: We have custom accessories for everyone. Bike racks, ski racks, kayak racks and sports bags for the sports enthusiast. Yard tool racks for the green thumb. Saddle racks for the horse lover.
FREE ESTIMATE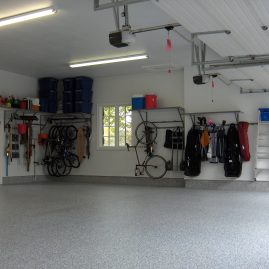 I've had a wonderful time with you loading all the stuff from my garage on my new Monkey Bar system! I love that I can hang… Read more
Begin Your Garage Transformation Today
The task of organizing the garage is not always an easy one. We are here for you every step of the way. From a free estimate, to installing and helping you organize your items on our systems in the most efficient manner possible.
Give us a call to get started on your garage transformation today.
Benefits of our Garage Shelving in Fayetteville
Increase Space & Save Money: Our systems are a one-time investment that allows you to take advantage of the space your garage already provides. Storing everything on our shelves and bar and hook system increases your usable square footage by 50%.

Don't hesitate getting started on organizing your garage. Start today with the best garage shelving Fayetteville has to offer.
Check out other Garage Organization Products.
// AS SEEN ON
Tired of feeling overwhelmed by the clutter in your garage? We have the perfect solution for that. Our products are versatile and simple to use. Families just like yours have benefited from a visit from Storage Solutions of Central North Carolina. We can help you create the perfect storage plan for your space and family!

It's more than storage.
It's your life.™
IT ALL STARTS WITH THE SHELF
// 24" D-10 GARAGE SHELVING
24" deep shelf, 10 adjustable bar positions.
// 16" D-6 GARAGE SHELVING
16" deep shelf, 6 adjustable bar positions.
// 24" D-6 GARAGE SHELVING
24" deep shelf, 6 adjustable bar positions.
32" deep shelf, 10 adjustable bar positions.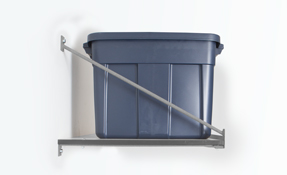 Great for over windows and doors.
Great for over the garage door.
Easily and securely snaps in and out of the brackets. Available in 35" and 51" lengths.
Hooks snap on and off bars and hang almost anything off the ground.
Eight
hook types to neatly store the items in your garage
.
//
ADJUSTABLE WALL SHELVES
Shelves 13" deep and 36" or 44" long. Can mount directly to a wall or suspend from a Monkey Bar.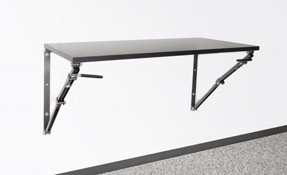 Sturdy when you need it, out of the way when you don't.
Easy organization for sports fans in your family.
Great for helmets, sports gear, exercise equipment and more.
Perfect for holding garden hoses, air hoses, and extension cords.
Stores golf balls, baseballs, hand tools and more.