// DURABLE FLOORING
Give your garage a gorgeous floor that lasts and lasts.
// CLEAN AND NON-SLIP
Our flooring makes your garage easy to clean and safe to use.
// LIQUID RESISTANT
Wall-to-wall flooring that resists water, oils, and chemicals.
CONSULTATION
IT'S TIME TO GET ORGANIZED.
CONSULTATION
IT'S TIME TO GET ORGANIZED.
DURABLE GARAGE FLOOR COATING FAYETTEVILLE FAMILIES ADORE
When you open your garage door, are you embarrassed for your neighbors to see the state of your garage floor? Is your garage floor stained, pitted, or otherwise blemished? Let us help you create a garage floor that you want to show off to your friends and family. Our garage floor coating process will eliminate those unsightly flaws in your floor.
//
GRINDING AWAY IMPERFECTION
Before we install our garage floor coating in Fayetteville, we take the time to fully prepare the area. Unlike DIY solutions, we don't use an acid wash, instead we prefer a diamond grinder. Through grinding your garage floor, we are able to create a porous surface that your new floor will better adhere to, creating a smooth finish.
We offer a variety of color options to choose from. You can choose from the pre-made chip finishes or you can create your own finish with custom colors.
Don't worry about buying special cleaning supplies to keep your new garage floor clean and stain-free. To clean this floor, all you need is a hose and a squeegee or towel.

NO PEELING
Diamond grinding ensures a superior bond that won't peel

UV STABLE FLOORING
Base coat will never fade, top coat will never yellow
CRACK & SPALLING REPAIR
We fill cracks, spalling, and control joints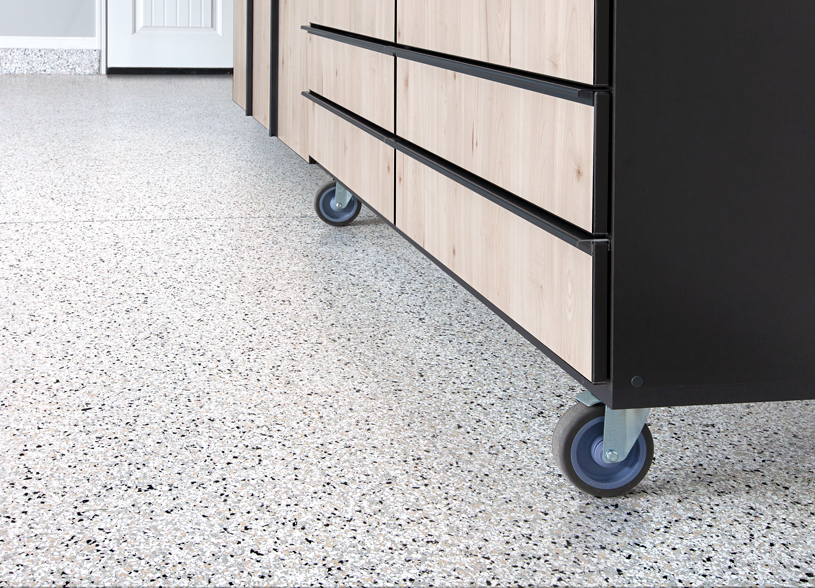 THE GARAGE FLOOR COATING FAYETTEVILLE RESIDENTS WANT
Our trained estimate and installation technicians will help you create the custom garage floor you have been dreaming about. Let one of our estimate specialists visit your space in order to gather correct measurements to leave you with an accurate estimate of costs.
Durability: Tools are often dropped in the garage, don't worry about ruining your garage floor if that happens on your new garage floor coating in Fayetteville. Our floors are designed to withstand regular wear and tear.
UV Stability: Typical garage flooring will fade as a result of direct sunlight. Our garage floor coating in Fayetteville is designed to maintain color even after exposure to direct sunlight.
Layered Design: We use three layers to create a beautiful garage floor for our clients. With a base coat, chips and a tough top layer, our garage flooring will last longer than the competition.
Blemish Repair: Instead of covering up imperfections, we take the time to fix them first. Our diamond grinder will smooth away spalling or rough surfaces, we also fill in pits or cracks.
FREE ESTIMATE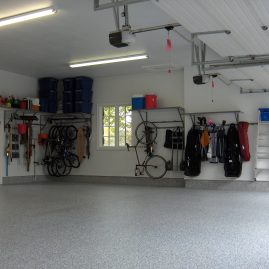 I've had a wonderful time with you loading all the stuff from my garage on my new Monkey Bar system! I love that I can hang… Read more
GARAGE FLOORING YOU'LL LOVE
Professional Installation: We only send trained installation technicians to install our garage floor coatings. If you have errands to run, you can leave our crew to work while you get tasks done on your own time.
Sealed Concrete: Our garage flooring will seal the original concrete floor against dirt, dust or other agents that could corrode the concrete base.
No Peeling: Some DIY flooring solutions will eventually peel and flake. Our garage flooring will last for years to come. These floors will not peel up or flake after years of use.
Free Estimate:
Before we give you a hard estimate, we will travel to your space to gather precise measurements and assess the condition of the current floor. We will discuss your goals and style preferences in order to give you the most accurate, free estimate
.
// AS SEEN ON
Are you ready to show off your garage? You can create a garage worth showing off with just a little help from Storage Solutions of Central NC.
Contact us today to get started on your free estimate!

It's more than storage.
It's your life.™
FLOOR COATINGS