//
GARAGE SLATWALL
Simplify your storage and make the garage look great.
//
STORAGE IN ANY SPACE
Slatwall solutions fit in every garage.
//
MODERN STYLE MADE EASY
Solutions to upgrade the look of your space.
CONSULTATION
IT'S TIME TO GET ORGANIZED.
CONSULTATION
IT'S TIME TO GET ORGANIZED.
GARAGE SLATWALL FAYETTEVILLE FAMILIES TRUST
When it comes to organizing the smaller miscellaneous items in the garage, it's important to choose a storage solution up for the job. Garage slatwall in Fayetteville is exactly what you're looking for. With a variety of accessories and hook combinations available, you can create a custom storage layout to fit your needs.
//
PROTECTED WALLS
Protect your garage walls from dirt and scuffs that come with storing items on the walls. Safely store your bikes, yard tools and more without worrying about scuffing your drywall.
//
ADJUSTABLE STORAGE
With a variety of hooks and accessories, you can design a storage layout that works with your storage needs. Our garage slatwall in Fayetteville makes it easy to adjust your storage over time.
//
PROFESSIONAL INSTALLATION
All of our slatwall solutions are professionally installed by our team of trained technicians.

SOLID PVC CONSTRUCTION
Holds 1000lbs every four feet of shelving

OFF THE FLOOR
Get everything off of your floor for easy cleaning

COLOR COORDINATED
Color options will fit in any garage
LOCKABLE HOOKS
Hooks can lock into place on the slats for extra security.
SLATWALL FOR YOUR LIFESTYLE
Durable: Our garage slatwall in Fayetteville is made with PVC extruded plastic, making it one of the strongest slatwall solutions on the market. This solution holds up to 100lbs on ever square foot section.
Seamless Installation: Installation technicians cut and mold your slatwall to fit around existing features like outlets and light fixtures. We also add moulding around the edges to give a more finishes and seamless look.
Color Options: We offer our slatwall in a variety of colors to make it easier to design a garage that fits your style and coordinates with our other garage storage solutions.
FREE ESTIMATE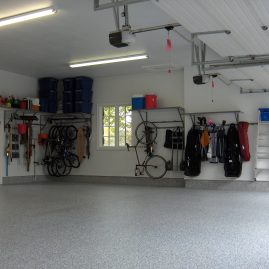 I've had a wonderful time with you loading all the stuff from my garage on my new Monkey Bar system! I love that I can hang… Read more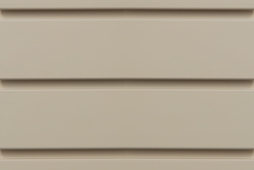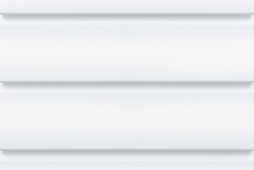 SLATWALL HOOKS
Different hook options to store just about anything in your garage.
Maximize your storage system with different accessories.
Hooks slide and snap into place to create your custom workspace.
// ADJUSTABLE WALL SHELVES
Shelves are
13" deep and 36" or 44" long. Stores a variety of things
.
Hang items from these sturdy 35" or 51" Monkey Bars.
Sports equipment can be kept close at hand and out of the way.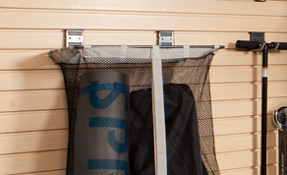 The Gear Bag can hold larger items such as sports pads or exercise gear.
Bulky hoses and extension cords can be kept coiled and tidy.
Small items are best kept safely in wire baskets.