//GARAGE STORAGE SIMPLIFIED
Pinehurst has never had it easier.
CONSULTATION
IT'S TIME TO GET ORGANIZED.
CONSULTATION
IT'S TIME TO GET ORGANIZED.
BEST GARAGE STORAGE PINEHURST HAS TO OFFER
If you're looking for the best garage storage in Pinehurst, look no further than Storage Solutions of Central North Carolina. We have the right systems and skills to help you take back control of your garage and get organized.
Custom Garage Storage Solutions
Every garage is different, and so is every family's storage needs. That's why we create custom storage systems tailored to you and your garage. With the use of the Gorgeous Garage system, the best garage storage Pinehurst has to offer, you'll get the perfect system for your garage.
Accessories: Along with our systems for garage storage in Pinehurst come a variety of storage accessories to meet your specific storage needs. Select from bike racks and yard tool racks to sports bags and drop-down shelving.
Versatile: The Gorgeous Garage systems are versatile enough to be used in the garage, storage shed, other areas of the home and warehouses.
Affordable: Get rid of your monthly storage unit bill by storing everything in your own garage on our one-time-investment systems.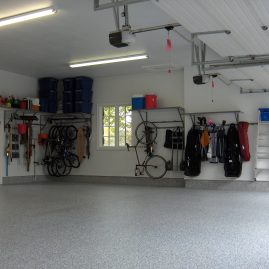 I've had a wonderful time with you loading all the stuff from my garage on my new Monkey Bar system! I love that I can hang… Read more