//GARAGE STORAGE SIMPLIFIED
Spring Lake has never had it easier.
CONSULTATION
IT'S TIME TO GET ORGANIZED.
CONSULTATION
IT'S TIME TO GET ORGANIZED.
UNMATCHED GARAGE STORAGE IN SPRING LAKE
Regardless of your storage and organizational needs, the professionals at Storage Solutions of Central North Carolina have what you need to make your goals reality. From beautiful cabinets, to sturdy shelving, look no further to find the best garage storage Spring Lake has to offer.
Why Storage Organization?
Are you like the majority of American families who cannot park in the garage due to clutter? Our personal goal is to change that. We have found, as well as many others, that organization not only increases efficiency, but saves time, money, and sanity! Garage storage in Spring Lake has never been easier, just look at our product benefits:
Strength & Durability: Made from galvanized steel, our systems are incredibly strong, and can handle anything you throw at them!
Adaptable: Over time, storage needs change. Our system are so customizable and versatile, that they will change with you.
Accessories: Our systems for garage storage in Spring Lake can be paired with a variety of accessories to create additional storage. We offer saddle racks, ski racks, and other hooks to hold anything you need.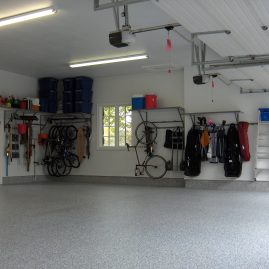 I've had a wonderful time with you loading all the stuff from my garage on my new Monkey Bar system! I love that I can hang… Read more
GARAGE SOLUTIONS FOR YOU
Visit our product pages to find more ways our products can meet your lifestyle needs!
FREE ESTIMATE