// MOTORIZED OR FIXED RACKS
Durable racks with or without the use of a ladder.
// ABOVE THE COMPETITION
Store with confidence with industry leading weight capacity.
// OUT OF SIGHT, OUT OF MIND
Store rarely used items up high and out of the way.
CONSULTATION
IT'S TIME TO GET ORGANIZED.
CONSULTATION
IT'S TIME TO GET ORGANIZED.


OVERHEAD GARAGE STORAGE
FAYETTEVILLE
FAMILIES WANT
Ceiling space in the garage is often overlooked. Our solutions for garage overhead garage storage in Fayetteville take advantage of that wasted space to bring you even more storage possibilities in your own home.
//

More Space, Less Money
Take advantage of all the space your garage has to offer with overhead storage racks. By storing everything in the space your garage already provides you, you can get rid of that costly storage unit that holds all your less frequently used and seasonal items.

//

Safely Store Everything
The powder-coated, steel engineering of our overhead racks allow you to safely store thousands of pounds of storage overhead without worry. Each rack is securely mounted into 4 trusses for superior safety.
SAFETY LIP
2" lip securely holds all of your storage in its place
CUSTOMIZABLE
Racks can be combined for greater storage capacity

MOTORIZED OPTION
Skip the ladder and load your racks from the ground level
PROFESSIONAL INSTALL
Authorized dealers ensure a proper installation
// MOTORIZED GARAGE SOLUTIONS FOR FAYETTEVILLE
Control your overhead storage like never before the new garage storage lift Fayetteville was waiting for is here! Four Bluetooth motors give you the power to raise and lower your overhead racks like never before.
Loading and unloading your items has never been easier, lower the rack for easy access to all of your long term storage with the tap of a screen.
• Manufactured in the U.S.A.
• Controlled with your smartphone
• 350lb storage capacity
• Lifetime warranty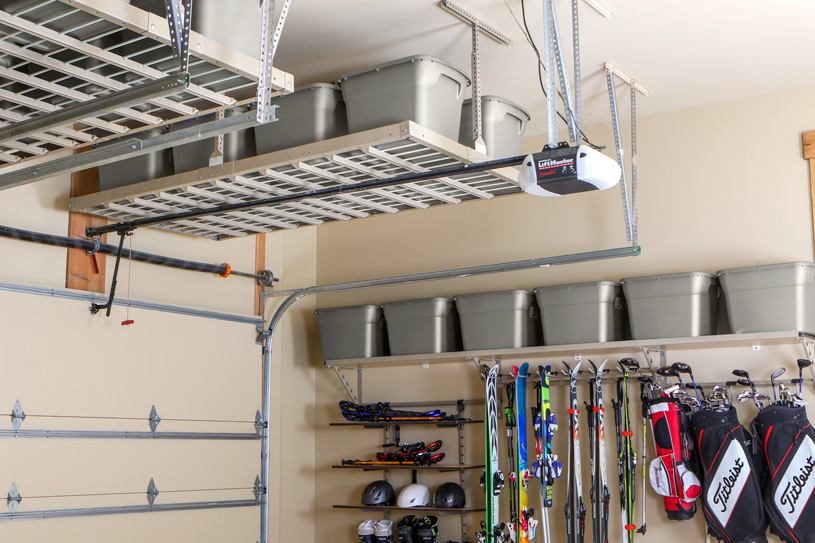 Garage Overhead Storage Features
Easily Adjustable Racks: Our overhead racks are capable of adjusting in length to give you as much or as little storage capabilities you need. Adjust them any time you have more to store or less to store.
Efficient Storage Solution: Overhead racks are perfect for storing bins and boxes of holiday decorations and less frequently used, seasonal items. They are stored out of the way, yet still easy to access when the time comes to use them.
Give us a call today for the overhead garage storage Fayetteville families rely on.
FREE ESTIMATE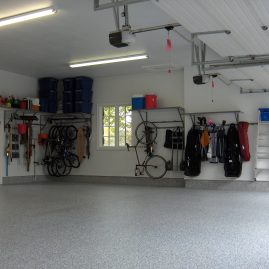 I've had a wonderful time with you loading all the stuff from my garage on my new Monkey Bar system! I love that I can hang… Read more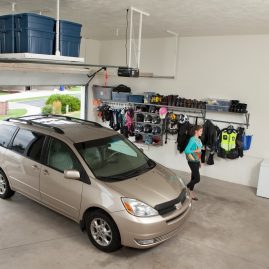 You and your crew were so professional with the install of Monkey Bars in my garage. The extra time you spent the day after y… Read more
More Benefits of Garage Overhead Storage
Secure Storage: Have the peace of mind that your items are securely stored up high. Each rack is constructed with a 2 inch safety lip surrounding each side, ensuring nothing will slide around or fall off the racks.
Many Uses: Overhead racks are great for use in more than just garages. Use them in warehouses or anywhere else with high ceilings and a need for extra storage.
Get Organized in No Time: Overhead racks are the easiest and quickest way to get started on your garage organization project in no time.
Give us a call today to get started on organizing your garage with the best overhead garage storage Fayetteville has to offer.
//

AS SEEN ON
Give your garage a little extra love with a storage and organization overhaul. Our products have been featured on various home improvement shows. You can get those same products in your garage! Call us to schedule your free estimate.

It's more than storage.
It's your life.™
OVERHEAD SOLUTIONS
Bluetooth motors can raise and lower the platform using your smartphone
.
Wall mounted racks can hold up to 1,000 pounds per rack.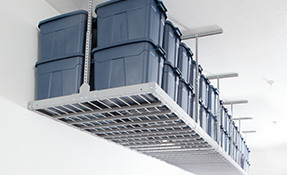 Each 8' rack can be combined with more racks to form even larger platforms.
Made from industrial grade steel, these racks can handle anything.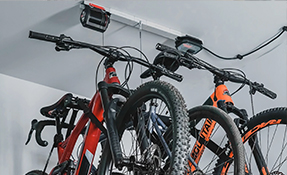 Get your bikes and other accessories off the floor with Bluetooth motors.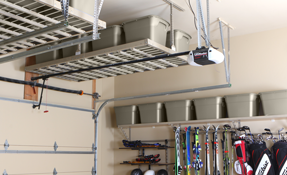 Overhead racks come in Granite Gray and Desert Stone to match your Monkey Bars Shelving System.