// DURABLE FLOORING
Give your garage a gorgeous floor that lasts.

// WORRY-FREE FLOORING
Spills wipe right off our durable flooring.
// BEAUTY AND DURABILITY
Give your garage the floor it deserves.
CONSULTATION
IT'S TIME TO GET ORGANIZED.
CONSULTATION
IT'S TIME TO GET ORGANIZED.
TRANSFORMATIVE GARAGE FLOORING FAYETTEVILLE HOMEOWNERS LOVES


A cold, cracked garage floor is an eye sore. Give your garage a face-lift with our beautiful and durable garage flooring in Fayetteville. Each of our floors is professionally installed to ensure longevity. We are dedicated to providing the best garage floor installation experience in Fayetteville.

//

DURABILITY YOU WANt
Our flooring materials and process ensure a long-lasting and durable floor. We use polyurea, more durable and abrasion resistant than other flooring materials.

//

Water & Stain Resistant
Our garage flooring solutions are created to withstand water, oil, chemicals and stains. Simply wipe up what you spill without worrying about ruining your new garage floor.
INDUSTRIAL STRENGTH
Our garage flooring can handle years of abuse
EASY TO CLEAN
Maintaining a pristine appearance is no problem.
CHEMICAL RESISTANT
Don't fret over spilled gas or oil
PROFESSIONAL INSTALL
Authorized dealers to ensure a proper installation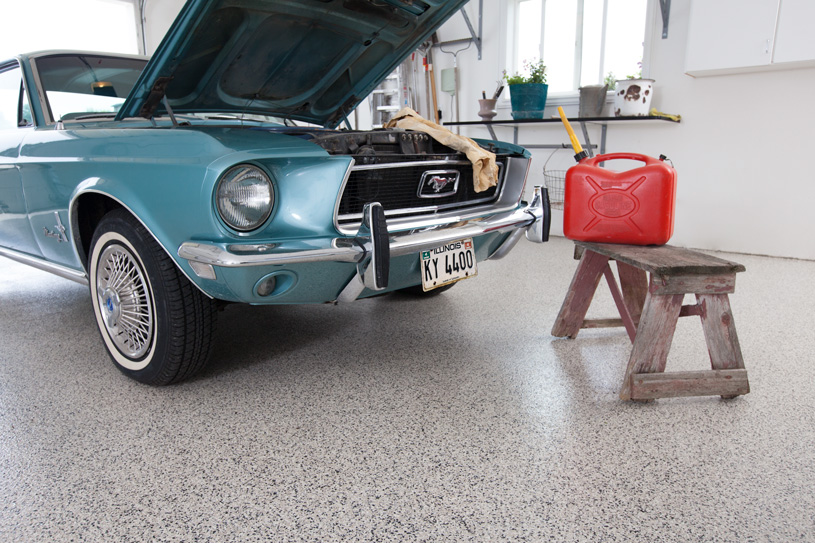 Our Proven Process
Our garage flooring materials, as well as our preparation and application process is what sets us apart from others when it come to garage flooring. We are committed to bringing you the best garage flooring in Fayetteville that is sure to last for years to come.
Free Consultation: When we come to you for your free estimate, we show you our various options for garage flooring. You can choose from our sleek, solid finishes, our very popular granite chip finishes, or our garage floor tiles. We have something to complement everyone's space.
Preparation: When installing garage floor coatings, we first diamond grind your entire floor, creating a smooth and porous surface for our material to better adhere to. We also fill any cracks and pits with our extremely durable crack repair material.
Application: We understand that your life is busy, so we handle all of the installation. These garage flooring solutions can be installed and ready for use in just 1-2 days.
FREE ESTIMATE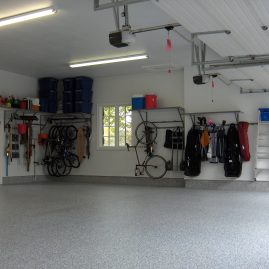 I've had a wonderful time with you loading all the stuff from my garage on my new Monkey Bar system! I love that I can hang… Read more
Garage Flooring Highlighted Benefits
Top Quality Materials: Not only are our materials durable, but they're also safe and environmentally friendly. Our floor coatings are low VOC, non-toxic chemicals that do not produce harmful vapors.
The Style You Want: If you're looking to add a beautiful finishing touch to your garage, our garage flooring in Fayetteville is what you want. We leave you with a smooth, sleek floor that matches your style.
Guaranteed Product: Our flooring materials are UV stable, ensuring they will not yellow or discolor. They are also guaranteed not to lift or peel. We offer a 5 year warranty on all our floors.
// AS SEEN ON
Ready to take your garage storage game to the next level? Our storage products are built to withstand regular wear and tear while keeping your items safely stored away. Find out what our storage solutions can do for your garage today. Contact us to get started!

It's more than storage.
It's your life.™