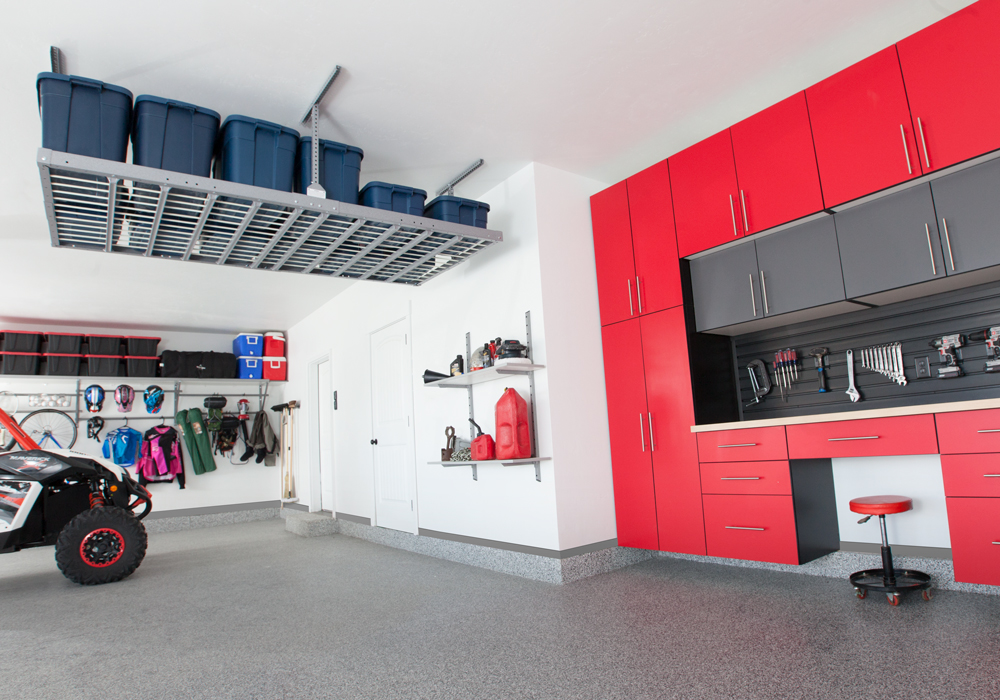 It's more than garage storage.
It's your life.
CONSULTATION
IT'S TIME TO GET ORGANIZED.
The Most Innovative Garage Storage
Fayetteville

HAS TO OFFER

If you're looking for efficient and durable garage storage in Fayetteville, Storage Solutions of Central North Carolina is right for the job. We utilize the innovative, patented Gorgeous Garage Storage System to help homeowners take back control of their garage and transform it into a beautifully organized space.

Efficient Storage Solutions – Our systems take advantage of the wall and ceiling space in your garage and store and organize everything in a 1/3 of the space. Less frequently used items are stored up high and items used more frequently are stored or hung below for daily easy access.

Sound Investment – With everything stored and organized in your garage, you won't need that costly off-site storage unit anymore. Our storage systems are a one-time investment you won't regret you made.

FREE CONSULTATION
Get a free consultation and estimate before you buy anything.
INDUSTRY EXPERTS
We have the knowledge and expertise to offer you the best solutions.
LOCALLY OWNED
We are a locally owned and operated business.
Strong Shelves to Store it All
Our Monkey Bar shelves were engineered for strength and versatility. You can store 1,000 lbs of storage items on just one 4 ft shelf. Store large boxes and bins up on the shelf and hang yard tools and sports equipment below the shelf on our patented bar and hook system. Your storage options are endless.
Top of the Line Durability
Durability like ours won't be found anywhere else. From our powder-coated steel shelves and overhead racks, to melamine cabinets and commercial grade garage flooring, you're guaranteed the best quality garage storage Fayetteville has to offer.
CONTACT US TODAY
The Christmas surprise install you did made my husband so happy, he went and bought me a new road bike. We can now fit both c… Read more
Solutions Created For You
Not every family has the same storage needs, so we don't offer a one-size-fits-all approach to garage storage. Our professional staff will assess your storage capacity and come to understand what you want from your storage solutions. We will then leave you with a free estimate with no obligation to purchase.
YOUR PERFECT SOLUTION
Tired of searching the aisles of storage solutions at big box stores for a solution to fit your specifications? We have a perfect solution for you! Our products can be easily tailored to your space and storage needs. We offer garage shelving, cabinets, overhead racks and flooring. Talk about your one-stop shop
!
GET STARTED
Want to find out what we can do for your cluttered garage? Contact us to find out and get started in your garage organization transformation!
GET A FREE QUOTE
//

AREAS SERVED NEAR FAYETTEVILLE

We offer our garage storage and garage organization Fayetteville homeowners love to the following cities:

Pinehurst, Southern Pines, Fayetteville, Albemarle, Hope Mills, Kannapolis, Sanford, Fort Bragg, Bisco, Candor, Aberdeen, Bennett, Raeford, Rockingham, Norwood, Mount Gilead, China Grove, Gold Hill, Rockwell, Carthage, Cameron, Vass, Spring Lake, Laurinburg