// CLUTTER-FREE CABINETS
Keep clutter covered and out of the way with our line of cabinets.
// CABINETRY FOR EVERY SPACE
Colors, sizes, and styles to match every garage.

// BUILT TO LAST
Our products are made with the highest quality components.
CONSULTATION
IT'S TIME TO GET ORGANIZED.
CONSULTATION
IT'S TIME TO GET ORGANIZED.
SLEEK & DURABLE GARAGE CABINETS FAYETTEVILLE ADORES
Looking for ultimate durability, functionality and design in your garage cabinets? Fayetteville homeowners love our garage cabinets because they offer all three. Strength, function and beautiful finishes.
//

Solid Construction
A durable melamine construction and quality wooden dowels and screws are what makes our cabinets sturdy and guaranteed to hold up to what you have to store.

//

Stylish Finishes
Bring a clean, sleek look to your garage by storing everything out of sight in our garage cabinets.

//

Safe & Secure Storage
Have the peace of mind your items are stored away from moisture, dust and grime, as well as keeping fertilizers and cleaning supplies out of sight and reach of children.

//
PREMIUM WARRANTY
No worries with a 7-year or
limited life time warranty

//
SOLID CONSTRUCTION
Durable melamine with a heat fused laminated finish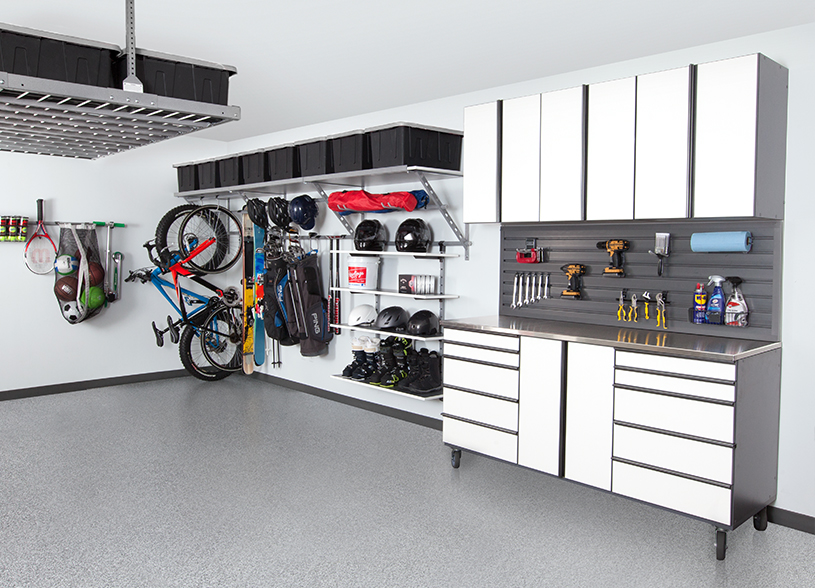 Garage Cabinet Features
Storage Rack Solutions: Our cabinets are fully capable of supporting the exclusive Gorgeous Garage storage racks. Store bikes, skis and yard tools out of sight.
Superior Hardware: Our cabinets are made with soft-close hinges and durable door glides, ensuring quality that will last.
Sturdy Shelves: Each inside shelf can support 100 lbs of storage.
FREE ESTIMATE
SIGNATURESERIES
CONSTRUCTION
• 1" thick melamine tops, bottoms, & fully adjustable shelves
• 3/4" thick melamine on doors, drawer fronts, & side panels
• Full cabinet backs with dado box construction
• Wall mounted garage cabinet system with optional legs
• 12", 16", 20", and 24" cabinet depths
• Cabinet heights up to 91" & widths up to 48"

HARDWARE
• 6-Way adjustable premium soft close hinges
• Full extension drawer glides
• Optional soft close full extension drawer glides
OTHER
BASE CABINET STYLES
FREE ESTIMATE
SIGNATUREELITE DOORS & FRONTS


• 3mm thick contoured edge-banding on doors and drawer fronts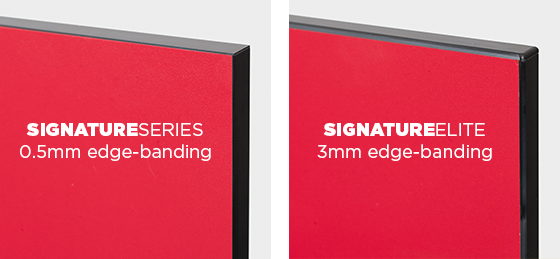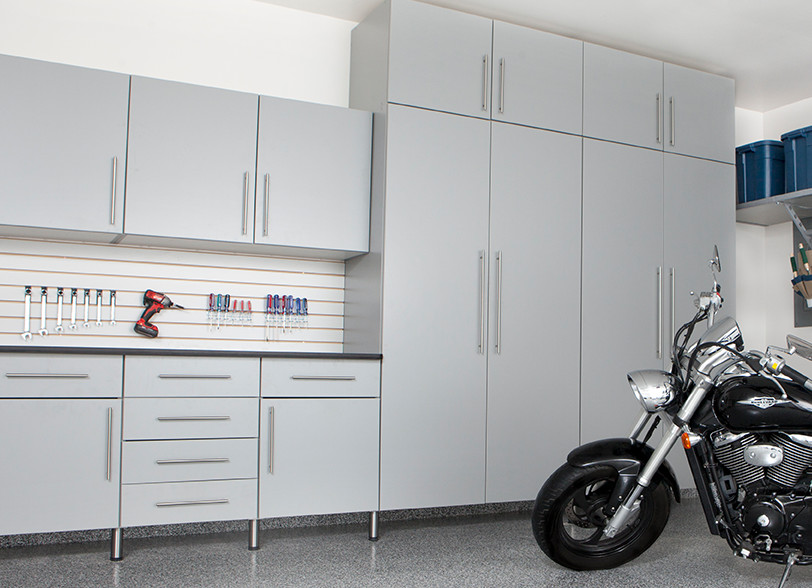 CLASSICSERIES
CONSTRUCTION
• 3/4" thick double sided melamine
• Wall mounted with optional legs
• Backless garage storage cabinet design
• Sizes up to 83" tall, 36" wide, 16" and 24" depths
• 0.5mm thick finish matched edge banding on all components
• Most shelves are fully adjustable

HARDWARE
• 3-way adjustable hinges
• Full extension drawer glides
• Variety of available countertop & handle options
OTHER
FREE ESTIMATE
CABINET FINISH OPTIONS
METAL PATTERNS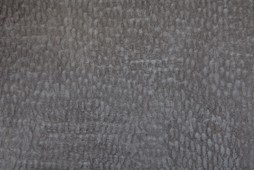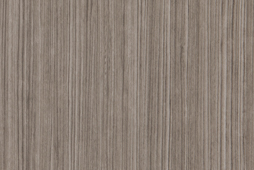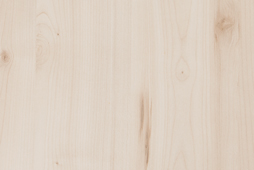 *featuring black edge-banding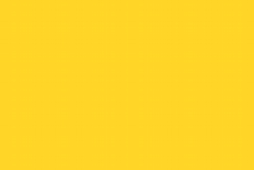 *featuring black edge-banding
*featuring black edge-banding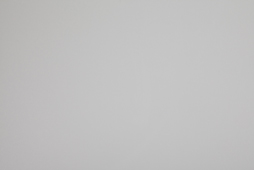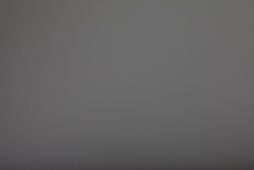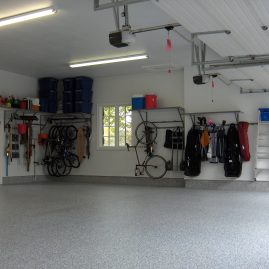 I've had a wonderful time with you loading all the stuff from my garage on my new Monkey Bar system! I love that I can hang… Read more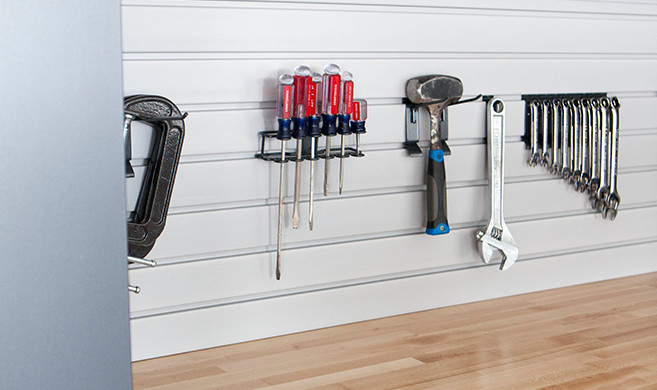 //
SLATWALL STORAGE
Do you work on crafts, vehicles, toys, or other projects in the garage? It's easy for tools to get lost or disorganized without a proper storage plan in place.
Our slatwall solution is perfect for keeping your items organized and within reach as you work. This PVC slatwall is low profile yet durable.
• Water and moisture resistant



• Scratch resistant, color pigment throughout
• Color-coordinated screws and trim
• 100% recyclable
Many Cabinet Options to Choose From
Different Mounting Options: Select from floor sitting and wall mounted cabinets. Mounting cabinets to the wall makes cleaning your garage floor easier and prevents pests from finding a home in your garage.
Select Your Perfect Cabinet: We offer different sizes, colors and configurations of our garage cabinets in Fayetteville.
We offer the best garage cabinets Fayetteville homeowners rave about. Give us a call today to get your free quote.


AS SEEN ON PROPERTY BROTHERS
Contact Us to get the same product used in many renovations on the well known TV shows such as HGTV's Property Brothers.

It's more than storage.
It's your life.™
Pole and extruded handles in Stainless, Graphite Pearl, Black
, and Bronze
finishes.
Maple Butcher Block, Stainless
Steel, Graphite Black and Faux
// VERSATILE CABINET SYSTEM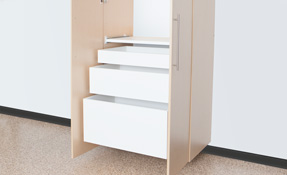 Add drawers, shelves, or an
in-cabinet Monkey Bars system.
Take your tools wherever you need them in the garage.
Soft close hinges means no
// INSIDE CABINET BRACKET
Adjustable bars and hooks allow
you to hang items in layers.