// DURABLE TILES
Change the look of your garage for years to come.
// RIBTRAX FLOORING
Vented floors that are easy to clean and easy on the eyes.
// MULTIPLE STYLES & COLORS
Pick the colors and styles to enhance the look of any car.
CONSULTATION
IT'S TIME TO GET ORGANIZED.
CONSULTATION
IT'S TIME TO GET ORGANIZED.
STYLISH GARAGE FLOOR TILES FAYETTEVILLE HOMEOWNERS WANT
Some homeowners want to update their garage floor, but they don't want to commit to a garage floor coating. Our garage floor tiles in Fayetteville are easily installed and can be taken with you if you decide to move to a new home. These tiles are strong and durable while maintaining their beauty and versatility.
//
ROLLOVER STRENGTH
These tiles have the strength homeowners have been searching for. Our garage floor tiles in Fayetteville can handle up to 75,000lbs of rollover weight.
Each tile has channels beneath to allow water to drain out. This also makes it easy to spray debris out of your garage under the tiles.
Don't worry about ruining your brand new garage floor tiles in Fayettevile, these tiles are resistant to water, oils, and other stains. Simply wipe away any spills in order to maintain the beauty of these garage floor tiles.

15 YEAR WARRANTY
Our garage tiles can handle years of abuse
CUSTOM DESIGNS
With 5 designs and 19 colors, any design is possible
SLIP RESISTANT
Tiles are slip resistant even when wet

PROFESSIONAL INSTALL
Authorized dealers to ensure a proper installation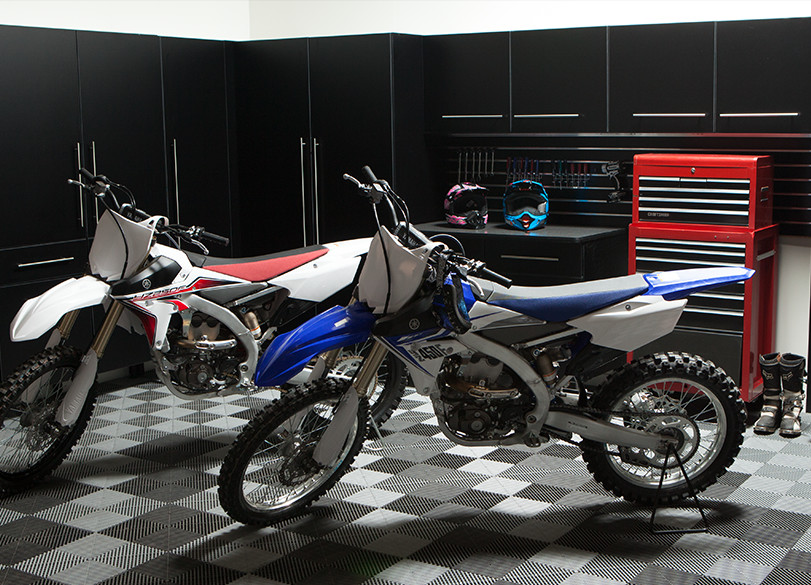 DURABLE GARAGE FLOOR TILES FOR EVERY SITUATION
Our garage floor tiles are durable and beautiful, making them perfect for installation in multiple spaces. Each tile is designed for longevity and strength in order to give our clients the best flooring solution for their investment.
Professional Installation: As there is no drying or preparation needed for this particular flooring solution, your new garage floor could be ready for use in as little as one day.
Custom Solution: We offer a variety of colors to choose from, allowing our clients to create truly custom designs. With so many options, it's easy to match a specific style or existing element in the garage.
UV Resistant: Don't worry about your garage floor tiles getting exposed to direct sunlight! Our tiles are designed to withstand harsh UV rays and maintain their original color.
Tight Fit: These garage floor tiles in Fayetteville are created with 24 connections, giving them a tight fit. You won't have to worry about these tiles sliding apart as you walk or drive over them.
Create the custom garage floor you've always wanted with this superb garage flooring solution.
FREE ESTIMATE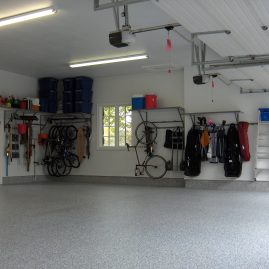 I've had a wonderful time with you loading all the stuff from my garage on my new Monkey Bar system! I love that I can hang… Read more
TILES THAT WORK HARD FOR YOU
Show Look: A decorative garage floor will beautify and increase the value of your home.
Non Warping: With 4-point injection molding, these tiles are strong. They will not peel, warp or bend up at the edges after years of wear and tear.
Hidden Blemishes: Is your garage floor stained or otherwise blemished? These tiles can quickly mask those flaws and create a beautiful show-room look that you'll want to show off.
Multiple Uses:
Because of their strength, durability and beauty, these garage floor tiles can be used in a variety of spaces. Previous clients have used these tiles in businesses, on patios, and in showrooms
.
// AS SEEN ON
Take your garage floor from dingy and flawed, to beautiful and strong. Our trained professionals are standing by to help you create your own custom garage floor!

It's more than storage.
It's your life.™
MODULAR FLOORING