//GARAGE STORAGE SIMPLIFIED
West End has never had it easier.
CONSULTATION
IT'S TIME TO GET ORGANIZED.
CONSULTATION
IT'S TIME TO GET ORGANIZED.
UNIQUE GARAGE STORAGE WEST END CAN TRUST
Say goodbye to overpriced outside storage units and hello to your own personal in-home storage. Garage storage in West End has never been better than with the Gorgeous Garage system. Versatile and made to last, get started on your garage storage West End families love!
WHAT OUR PRODUCTS CAN DO FOR YOU
We understand that the garage can be the hardest part of the home to organize. From short-term to long-term storage, it constantly builds up, leaving your garage a cluttered mess. Our system for garage storage in West End can ease that burden.
Durable: Our products are made with top-of-the-line materials in order to maintain longevity. Your items will remain safely stored away until you need them.
Low Maintenance: You will not need to buy any special cleaning supplies to keep your garage looking top notch. Our products are resistant to scratches and stains, and can be easily wiped clean if need be.
Product Variety: We carry a variety of solutions for garage storage in West End. Choose from our shelving, cabinet, overhead rack, and flooring options to create the perfectly organized garage you dream about.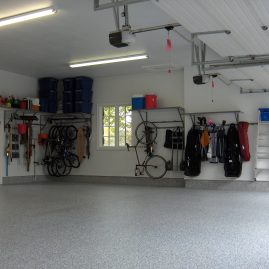 I've had a wonderful time with you loading all the stuff from my garage on my new Monkey Bar system! I love that I can hang… Read more