//GARAGE STORAGE SIMPLIFIED
Fort Bragg has never had it easier.
CONSULTATION
IT'S TIME TO GET ORGANIZED.
CONSULTATION
IT'S TIME TO GET ORGANIZED.
PERSONALIZED GARAGE STORAGE FORT BRAGG TREASURES
Are you continually baffled at how easy you lose important tools and work supplies in the garage? Without a proper plan for garage storage in Fort Bragg, your items can easily get lost. Storage Solutions of Central North Carolina brings you the most simple and efficient way of keeping your items in one place, easy to access and find.
Original Garage Storage in Fort Bragg
We take your belongings and put them systematically on shelves, racks, and in cabinets. Your storage should be designed the way you want, so we work with your garage to increase space and still have room for future equipment or tools you purchase.
More Space: Each system is engineered to utilize empty wall and ceiling space. By storing items up high or stowed away in a sturdy cabinet, you can increase room available by at least ⅓. Now you can park your car and still have room to walk around!
Accessorize: Drop-down shelves are perfect for storing items that won't hang on a hook below your shelving. Invest in a ball bag, wire basket, or bucket holder to place loose balls or other items for versatile garage storage in Fort Bragg.
Quality-Made: Each product is made with industrial-grade steel and leading hardware to give you a durable system will long outlive any DIY system. We also back all our products with a limited lifetime warranty to guarantee you keep your treasured new system.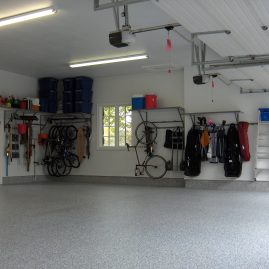 I've had a wonderful time with you loading all the stuff from my garage on my new Monkey Bar system! I love that I can hang… Read more