//GARAGE STORAGE SIMPLIFIED
Southern Pines has never had it easier.
CONSULTATION
IT'S TIME TO GET ORGANIZED.
CONSULTATION
IT'S TIME TO GET ORGANIZED.
THE BEST GARAGE STORAGE SOUTHERN PINES HAS TO OFFER
No matter the state of your garage, we have the solution. From shelving and cabinets, to flooring and overhead storage- we have the tools to make your garage the envy of the town. Our solutions for garage storage in Southern Pines can completely transform your garage. We have been organizing garages just like yours for years. Wonder what we can do for you? Call us today for a free no-obligation estimate.
How We Create Space.
Our unique products and services are designed to help you make the most out of your garage. Using the space that you currently have, our systems for garage storage in Southern Pines allow you to uniquely customize and design the garage that you want. Most of the time, holding 3x the amount of stuff in 1/3 the amount of space.
Custom Systems: We look at your garage and design a system that is completely customized to fit all of your needs and hobbies.
Affordable: By using a system that is guaranteed for life, you won't have to worry about spending money on replacing or exchanging the product.
Utilize Wasted Space: Most people don't take advantage of overhead storage. Our systems will help you easily take advantage of this wasted space.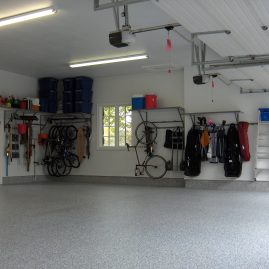 I've had a wonderful time with you loading all the stuff from my garage on my new Monkey Bar system! I love that I can hang… Read more