//GARAGE STORAGE SIMPLIFIED
Hope Mills has never had it easier.
CONSULTATION
IT'S TIME TO GET ORGANIZED.
CONSULTATION
IT'S TIME TO GET ORGANIZED.
CUSTOM SOLUTIONS FOR GARAGE STORAGE IN HOPE MILLS
Storage Solutions of Central North Carolina is here to help you with your problem in garage storage in Hope Mills. Take back control of your garage and get organized with our garage shelving, cabinets and overhead racks. Add the perfect finishing touch with one of our beautiful garage floor coatings.
What We Do For Hope Mills Homeowners
We are trained to assess storage areas and needs. With our skills and the use of the Gorgeous Garage storage system, the best garage storage Hope Mills has to offer, there's no garage we can't help you tackle.
Custom: We create a custom plan for garage storage in Hope Mills that will meet your needs, complete with the right storage system and accessories that meet your storage needs.
Affordable Solutions: Spend half as much as you would with other storage systems when you work with us. This is also a one-time investment you won't regret.
Only Quality: We only offer top quality products. We use industrial strength steel and melamine storage solutions and commercial grade flooring materials.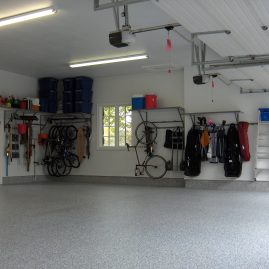 I've had a wonderful time with you loading all the stuff from my garage on my new Monkey Bar system! I love that I can hang… Read more